APPLICATION PROCESS
BEFORE YOU APPLY…
Read through the job description of the position that you qualify for: Friends Club (non-education majors), Premier School Elementary (education only), Premier School Kindergarten (education only), Collegiate Summer Volunteer. If you decide to apply, be sure that you have read through our professional standards document and you are able to comply with our work standards.
Professional Standards document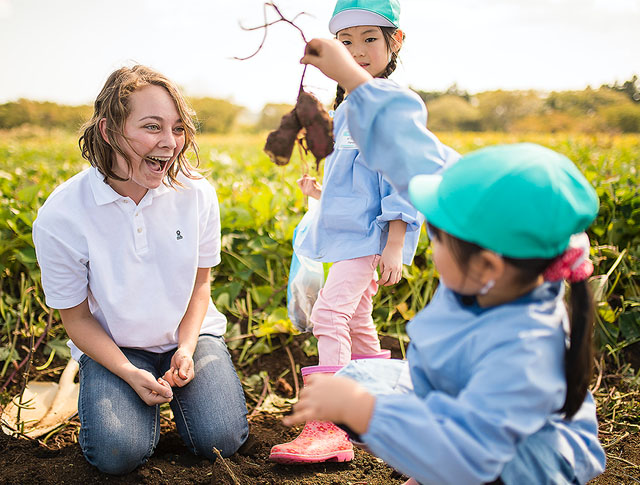 ALL TEACHERS MUST…
Have a completed two or four year college degree.
Be mentally and physically healthy.
Have a passion for working with young children.
Be a native English speaker or highly proficient in grammar, pronunciation, etc.
Agree with our core values and mission.
STEP ONE: APPLICATION SUBMISSION (YEAR-ROUND)
Submit your application for the position you qualify for and the one that fits you best on our Available Positions page. Please note: Although our hiring times are set at certain points in the year, we encourage you to apply when you have made the decision to pursue this job. We often have times in the year that we need to hire because of unforeseen openings. Please contact our recruiter if you'd like to understand your specific timeline.
STEP TWO: ONE-WAY VIDEO INTERVIEW (YEAR-ROUND)
Applicants who pass the initial application screening will be instructed to record themselves answering ten questions through the website Spark Hire. Instructions will be included on how to record and send your answers quickly and efficiently. Our team will review your completed video and application.

Please note: Our response time will vary after you submit your video. Please allow time for us to review your application and feel free to contact our recruiter if you'd like a more specific timeline. See timeline below.
STEP THREE: FINAL INTERVIEW
The recruiter will schedule a live interview with you. This could be an in-person interview or an online interview with members of our hiring team.

Our primary hiring time of the year is in the fall. Final interviews will be scheduled from September to early November. Our secondary hiring time is in the spring. Limited final interviews will be scheduled from May to June.
STEP FOUR: DECISIONS MADE
The team's decisions are typically made within two weeks. Once the offer of employment is extended and accepted verbally, the new employee will begin working with the Human Resource and Foreign Staff Support Teams in gathering and completing the necessary paperwork for obtaining a work visa. The amount of time new employees are in this state of the on-boarding process varies by the time of year they are hired and their date of arrival in Japan.
STEP FIVE: ONBOARDING
Our team will work with you to:
Obtain your certificate of eligibility to work in Japan
Obtain your visa to work in Japan
Arrange and purchase your flight to Japan
Transport you from the airport to your furnished apartment
Provide training for your teaching position as well as in-service training